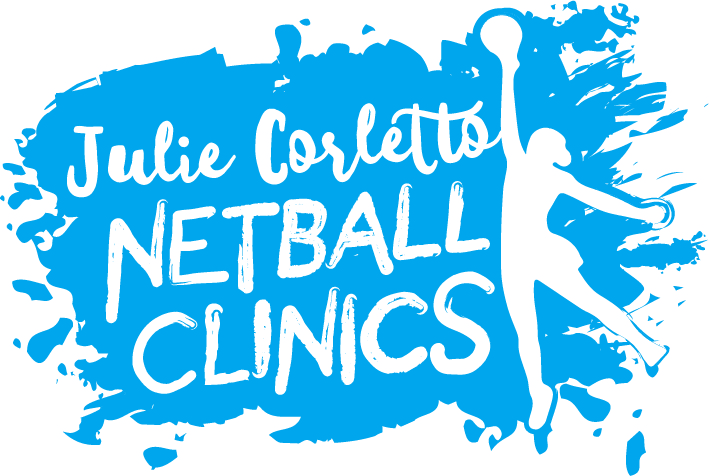 The Julie Corletto Netball Clinics have been operating since 2009. Julie is passionate about Netball and sharing her experiences with juniors The one day clinics will be a great experience for young Netballers. Julie's values are the building blocks behind the one day clinics. Julie has a determined attitude with a high work ethic, whilst having fun along the way. Julie's motto is to work hard for what you want.
The clinics will be a combination of specialist netball training with a holistic approach to provide a well rounded netball experience. The sessions will include specialist netball training, Match Play and other elite athlete Netball experiences. All participants will receive a Julie Corletto Netball Clinics inspired T-Shirt.
The Julie Corletto Netball clinics held in the School Holidays are targeted at 7 – 14 year olds, however Julie is able to tailor clinics to older participants, rep teams and seniors. If you are keen to host a clinic at your club, association or school please contact us: clinics@juliecorletto.com
We would love to invite all netballers aged 7 to 14yrs to register for Julie Corletto's School Holiday Clinics. PLEASE NOTE: ALL CLINICS ARE 9am – 3pm
2018 JULY SCHOOL HOLIDAY CLINICS:
MONDAY 2ND JULY – CAULFIELD

(Caulfield Grammar School, Lindsay Thompson Centre, 217 Glen Eira Road, East St Kilda)

*
WEDNESDAY 4TH JULY – VERMONT

(Sportlink, 2 Hanover Road, Vermont South)

*
FRIDAY 6TH JULY – MENTONE

(Mentone Grammar Sports Centre, Como Parade West, Mentone)

*
* Bookings Close – Friday 29th June
MONDAY 9th JULY - BALLARAT

(Wendouree Sports & Events Centre, Norman Street, Wendouree)

***
TUESDAY 10TH JULY – BENDIGO

(Bendigo Stadium, 134 Marong Road, Bendigo)

***
WEDNESDAY 11TH JULY – KERANG

(Kerang Stadium, Maxwell Street, Kerang)

***
THURSDAY 12TH JULY – SHEPPARTON

(Shepparton Sports Stadium, 120 Numurkah Road, Shepparton)

***
Friday 13th JULY – ALBURY

(Lauren Jackson Sports Centre, 229 North Street, Albury)

***
*** Bookings Close – Friday 6th July

TESTIMONIAL:
I just wanted to let you know how much my daughter loved your clinic at Sandringham. She had such a lovely time. All the staff and coaches were wonderful and she's learnt so many more new skills to take back to her Netball team!!
I myself thought it was very well organised. We have been to a few other clinics but nothing like we have experienced at your clinic!
My daughter loved everything about it from learning more about Netball to the Amazing Nutritionist that you had to talk about food. She now has a better attitude towards eating healthy - As soon as we left the clinic she wanted to go to the supermarket to buy healthy food to cook using the lovely book you gave them from San Remo foods.
Thanks again for such an amazing clinic - We will defiantly be attending it again!
Shelley – Sandringham 2018